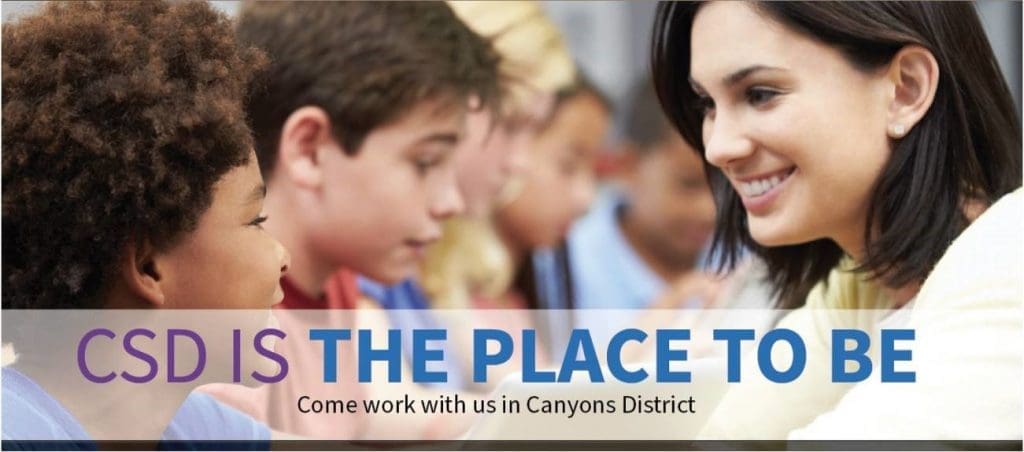 Administrator Positions - Schools
Administrative Screening Interviews will be conducted through an online interview process, VidCruiter.  This virtual recruitment tool allows you to record your responses when it is convenient for you and from anywhere in the world, provided you have a computer and an Internet connection.
The online application and video interview process takes approximately 90 minutes to complete.  To start the application process click here: http://bit.ly/CSDSA23

The requirements for the online application require a candidate to upload a current resume and school leadership license. You will also mark the school types you are interested in working at (elementary, middle, and high schools)
The video interview process will include a question introducing yourself and to talk about your experience, answering ten questions regarding school leadership, and a short written response.

Members of the CSD Leadership Team will evaluate all qualified  online video interviews on November 17, 2023; December 8, 2023; January 19, 2024; and other dates as needed.

Submit your completed application and video screening interview one week prior to this date.

All qualified applicants will be included in the Administrative Candidate Pool for three (3) years.

After three (3) years, candidates will need to complete the VidCruiter process again to remain in the pool. 
Individuals may participate in the Administrative Screening Interview once every three(3) years.  

As the possibilities of openings arise, candidates may be offered an additional interview, either in-person or via Zoom.

The interview team will then recommend candidates to the Superintendent for consideration for a particular assignment.
Once a candidate has been selected by the Superintendent, a recommendation to the Board of Education will be made.

All new hires will be required to have or obtain a Utah Professional School Leadership License 
Administrative Positions – District Office
Submit a complete District Administrative Application Packet to Human Resources.
The applications will then be evaluated and candidates selected to interview.
Once a candidate is selected, the District's Administration will take the recommendation to the Board of Education seeking approval.
Administrator Intern - Schools
Licensed School Personnel Positions (Non-District Candidates)
Individuals may only complete the application process once every recruiting season (March to December).
Candidates that are not current educators with  Canyons School District need to apply yearly to the candidate pool.
To apply, Educators, Instructional Coaches, School Counselors, School Psychologists, School Social Workers and Speech Language Pathologists applicants must complete an application and video screening interview via the Vidcruiter link provided on in the job posting.

The application and interview process takes approximately 45-50 minutes.
To view all current openings, click here.

After license status has been verified, the candidate will be placed in the subject area candidate pool for the area their educator license or other credentials show they are qualified for.
As positions become available, principals will select approximately five (5) candidates from the candidate pool to interview for the position.
Once a candidate is selected, and reference checks made, approval will be obtained from Human Resources and the position offered to the individual.
Licensed School Personnel Transfer Opportunities (Current CSD Licensed Employees)
All current CSD teachers interested in moving to another school in your license/endorsement area, will apply as a transfer after positions for the following school year are posted in mid – March.
Click here to view openings.
Licensed Specialist Positions
Submit a Licensed Specialist Application Form to Human Resources.

This application will only be accepted in the job posting specifically asked for it. Click here to view all licensed openings.

Approximately five (5) qualified candidates will be selected to interview for the position.
Once a candidate is selected, and reference checks made, approval will be obtained from Human Resources and the position offered to the individual.
Teaching or School Counselor Internships
Candidates in the last year of a university program interested in a paid internship complete an Internship Application and email it to csdemployment@canyonsdistrict.org. If there is a school with an opening in your content area they may contact your for an interview. See all current openings here.
School counselor internship positions are posted here when available.
Education Support Professional Positions (Classified Positions)
ESPs are all non-licensed positions available in the district (Administrative Assistants, Teacher Aides, Custodial, Nutrition workers, etc.)
To view openings click on the following link: ESP Openings
High School Coaching Positions
Head Coaches: When a job is posted here, submit a Head Coach Application and all other required documentation listed in the job posting to Becky Jackman.

All candidates that are interested in teaching as well as coaching will be required to complete the teacher screening interview before being hired.

Applications for Paid Assistant Coaches/Advisors & Volunteers:
The Board of Education is committed to providing a working and educational environment free from unlawful discrimination, harassment, and/or retaliation. Accordingly, no otherwise qualified person shall be excluded from participation in, be denied the benefits of, or otherwise be subjected to unlawful discrimination in any District program or activity on the basis of age, color, disability, gender, gender identity, national origin, pregnancy, race, religion, sexual orientation, or veteran status.