Canyons STEAM Studio is an innovative educational establishment designed to provide students in grades K-8 with an immersive environment to explore and engage in a wide array of STEAM (Science, Technology, Engineering, Arts, and Mathematics) opportunities. It serves as a hub where young minds can discover, experiment, and learn through hands-on experiences, fostering creativity and critical thinking skills. By the end of the 2023-2024 school year, STEAM Studio, will provide opportunities in elementary and middle schools across the district.
By offering an inclusive and supportive learning environment, STEAM Studio equips students with the tools they need to develop into well-rounded individuals with a strong foundation in STEAM disciplines. This comprehensive approach to education empowers students to innovative, problem-solve effectively, and become lifelong learners, ultimately preparing them for success in an increasingly technology-driven world. More information about bringing STEAM opportunities to the elementary and middle schools in Canyons School District will be coming soon.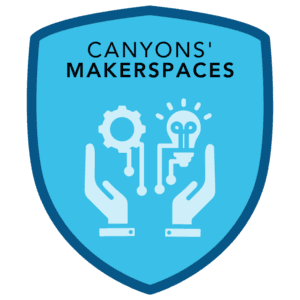 At the heart of STEAM Studio are its dynamic makerspaces. These vibrant and interactive environments serve as creative playgrounds where students in grades K-8 can immerse themselves in hands-on exploration. Makerspaces are equipped with a plethora of tools, materials, and technologies that empower young minds to design, build, and innovate. Whether it's crafting intricate engineering projects, experimenting with coding and robotics, or unleashing artistic creativity through various media, the makerspaces encourage students to bring their ideas to life while honing critical thinking skills and problem-solving abilities.
STEAM Studio extends its reach beyond the normal school day by offering STEAM Night Kits available for schools to check out to host school-wide STEAM Nights. Packed with carefully curated experiments and projects, these kits turn the school STEAM night into an evening of captivating learning experiences. By facilitating collaborative learning in the community, the STEAM night kits foster a sense of exploration and discovery that extends beyond the classroom, reinforcing the importance of STEAM education in everyday life.
The STEAM Squad program is a distinctive initiative offered by STEAM Studio. Designed to complement regular school hours, this program introduces students to in-depth exploration of STEAM subjects. Facilitated by experienced educators, STEAM Squad sessions delve deeper into specific disciplines, allowing students to tackle more intricate projects and challenges. The collaborative nature of STEAM Squad promotes teamwork and peer learning, enhancing students' ability to communicate and cooperate effectively. Whether held before or after school, the STEAM Squad experience is an immersive journey into the world of STEAM, sparking enthusiasm and nurturing expertise.