Alta High students gave a pep rally-like welcome to Utah Gov. Spencer Cox when he arrived at the school Thursday afternoon for a short visit with students and quick tour of the newly renovated school.
Alta's drum line, cheer squad, and student body officers donned Alta's colors of red, black and silver as they pounded out tunes, waved pom-poms, and held colorful banners to give the governor a rousing welcome.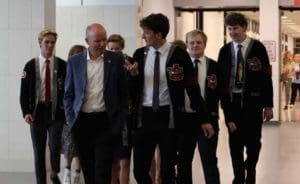 Cox's visit to the home of the Hawks was the first-ever gubernatorial visit to a Canyons school in the District's history. Cox arrived shortly after 1 p.m. in a pitch-black sport-utility vehicle, and quickly hopped out to shake the hands of the student-government leaders who were waiting to greet him in front of the Sandy-area school.
Also at the event were Alta High Principal Ken Rowley and his assistant principals, members of the Canyons Board of Education, Superintendent Rick Robins and Business Administrator Leon Wilcox.
After a quick tour of the new student commons area and the Alta High fieldhouse, Gov. Cox thanked Alta High's student leaders for their hospitality and commented on the beauty of the facility. From the second floor of the new AHS fieldhouse, he noted the sight of the football field and the mountain range. "This is quite the view," he said.
The state's chief executive stressed to the school's top student leaders to reach out to those who aren't in their immediate friend group. He urged them to be inclusive of all students, especially those who may not have found their niche at the school or are cutting classes often.
"Reach out, come together, find out why they aren't coming (to school)," he said.
He recounted his unsuccessful bid for student government office as a student in Fairview, Sanpete County.  Cox said he noted he lost by three votes — and learned much later that his now-wife, first lady Abby Cox, cast her ballot for the other candidate. 
Cox also told the students that small acts of kindness may lift up students who are silently struggling with difficult emotions.
Cox urged use of the state-funded SafeUT, which was piloted in Canyons secondary schools at the mobile app's launch in 2015. In fact, Alta was the first high school to use SafeUT, the app that gives students immediate, all-day-and-all-night access to school staff and counselors at the University of Utah's Neuropsychiatric Institute.  It has proven effective in reaching students who need extra support.
While envisioned as a suicide-prevention tool, it's also become a high-tech tip line for school safety issues.
Another pressing topic for Cox: The impact that social media has on the mental health of teenagers.
"We have really failed (to recognize) how social media is affecting all of you — and adults," he said, adding that his administration is working on initiatives to curb social media use. In time, the governor predicted, social media companies will have the same reputation as tobacco companies.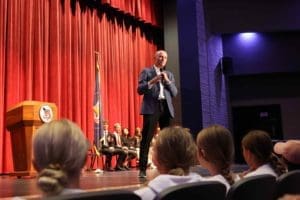 In his one-hour visit, which culminated in a question-and-answer period with several social studies classes that had gathered in Alta's state-of-the-art new Performing Arts Center, the governor also addressed the changing environment, the state's drought, the cost of gas, house prices, and the economy, among other topics.
"We are lucky to have amazing superintendents, principals, teachers, administrators," he said to the students.
At the end of the visit, student officers and Dr. Robins also presented Cox with Alta High-themed gifts to thank him for making a historic visit to the CSD campus.
"All I need from you, if you remember nothing else of anything we talk about today, is just that we are stronger together," Cox told the students.  "That we need you here. We need you to stay.  We need to help each other."