It's good timing for National Custodian Day — celebrated every October 2nd — to fall on a Saturday this year. 
If anybody deserves a day off on their special day, it's the 150 full-time custodians and 500 part-timers who five days a week clean 6.1 million square feet around Canyons School District.
 As CSD custodial lead trainer Todd Muir wrote in a recent email to his massive crew, "The calendar says it's our day, but, in fact, every day is our day."
 Isn't that the truth. Imagine for a second what lunchrooms, classrooms, hallways, gymnasiums, and every other nook and cranny in the District's buildings would look like without the consistent, attentive care of our custodians.
 On second thought, don't imagine that. It wouldn't be pretty.
 Instead, you could — and should — thank custodians for the work they do to make the District sparkly clean and sanitized. It needn't be a thankless job, that's for sure.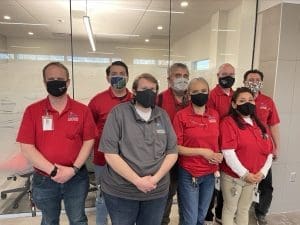 That's especially the case now, seeing as daily duties of the CSD custodians have increased in both workload and importance since the onset of the COVID-19 pandemic. To lower the risk of novel coronavirus spread, custodians are tasked with cleaning schools thoroughly throughout the day and into the evening hours. Cleaning crews also regularly disinfect classrooms, hallways, and commons areas with hospital-grade cleaning detergents.
"Please just understand what I said last year at this time is even more true now," Muir told CSD custodians. 
He put the next line in bold. "A well-trained custodian will prevent more illness than any doctor will ever cure!"
 To that point, think of the preventive care and cleaning that's been done over the years by the 16 CSD custodians who've put in over 25 years of service. That group includes one custodian with 30-plus years of experience, two devoted employees who've been on the job for more than 35 years, and the Custodial Ironman of the District: James Sheely, who's toiled away at Midvalley Elementary for an incredible 42 years.
 Canyons' custodians were aptly called "unsung heroes" when the Canyons Board of Education and Superintendent awarded the 2020 Canyons Apex Award to Custodial and Grounds Coordinator Kevin Kelson.
 An anonymous writer described a school's invaluable custodian like this: "The first to arrive each day. The first called to help. The last to leave. The one that befriends everyone. The one that takes complete ownership and is always ready to help no matter how difficult. The quiet hero of every school facility. The school custodian!"
 Enjoy your day off, custodians. You've more than earned it