It's free, it's fast, and it promises to be a valuable addition to the tools Canyons District schools have at their disposal to help stop the community-spread of COVID-19. 
In line with new state requirements, Canyons District's high schools on Monday, Nov. 30 began administering rapid COVID-19 testing to all students and employees involved in Utah High School Activities Association-sanctioned activities, including sports and performing art programs. The testing is free and will be administered by specially trained staff every 14 days as a prerequisite for participation in practices, rehearsals, competitions and performances. 
"Students and staff members may elect to not be tested. But doing so would preclude the person from participating in athletic or extracurricular activities by order of the Utah Department of Health," says CSD's Responsive Services Director BJ Weller.  "Through testing, in combination with continued contact-tracing, quarantines and the isolation of positive cases, the state hopes to minimize the risk of extracurricular activities and enable students to continue to enjoy them safely."
Additionally, Canyons District is providing optional COVID testing as a courtesy to all teachers and staff. The District began administering rapid testing free of charge to employees on Monday via a drive-thru testing center located in the garage beneath the Canyons District Office, 9361 S. 300 East in Sandy. To sign up for CSD's drive-thru testing, employees must complete the online form found at this link and line up inside their vehicle outside the north entrance of the District Office parking garage at any of the following times and days:
Monday, 6:30 – 8:30 a.m.
Wednesday, 3 – 5 p.m.
Friday, 8 – 10 a.m.
(days and times updated as of March 5, 2021)
The drive-thru testing is for employees and their minor children only. Students who are not experiencing symptoms but hoping to return to school following seven days of quarantine can register for free "rapid-return" testing through this health department website.
Public PCR testing is available at the Maverik Center in West Valley City on Tuesdays, Thursdays or Saturdays, 3200 S. Decker Lake Dr. in West Valley City. Registration link: https://slco.org/health/COVID-19/testing/public-testing/
All tests administered by the District are the BinaxNOW rapid antigen test, a minimally invasive swab test taken from inside the edge of the nose. It is among the most accurate of available rapid tests with a sensitivity of 97.1 percent and a specificity of 98.5 percent, which means false positives are unlikely. 
Results are interpreted visually within 15 minutes and reported to employees and parents and guardians through a secure Utah Department of Health portal. Those who test positive for COVID-19 will be directed to isolate per the instructions they receive from health authorities. 
The testing is being paid for with a portion of Utah's Coronavirus Aid, Relief, Economic Security (CARES) Act funding. It will be overseen and administered by school and District staff who have undergone special training and received all the necessary personal protective equipment, including surgical gloves, gowns, N95/KN95 masks and face shields, biohazard waste disposal bags and sanitizing wipes and dispensers. 
Parents with questions are encouraged to contact the Main Office of their child's school, and employees are encouraged to address any questions with their supervisor.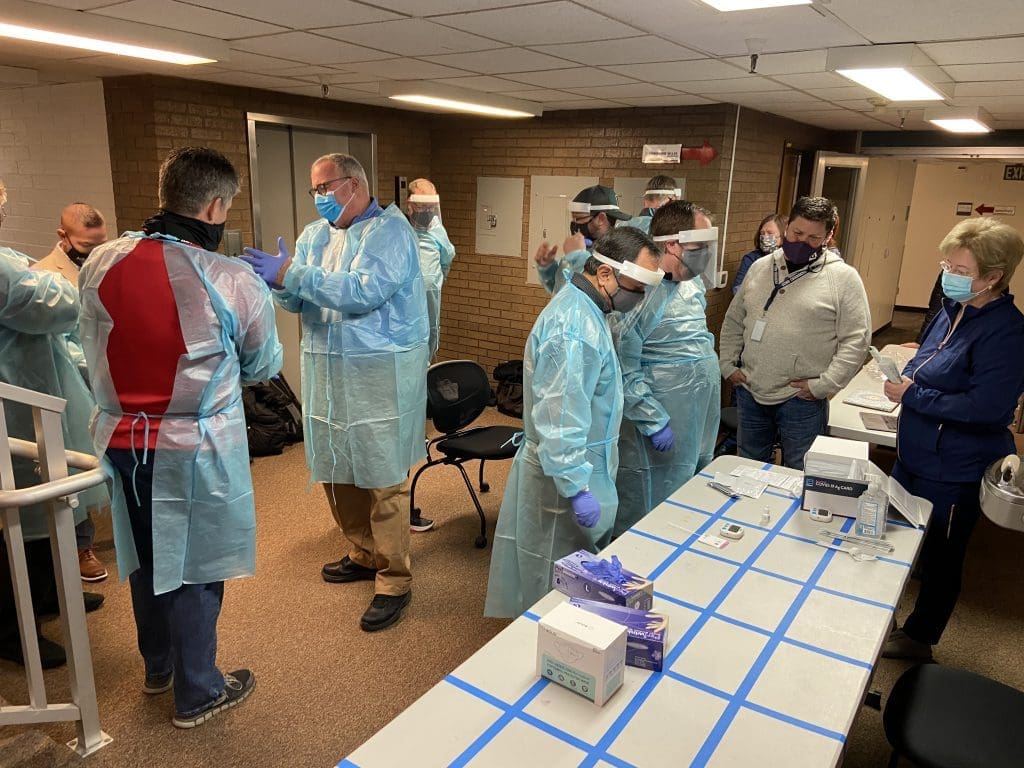 COVID-19 Testing Frequently Asked Questions
Click or tap on the questions below to expand the answer.