While touring the new Brighton High following a ribbon-cutting celebration Wednesday evening, Class of 1985 alumna Janice Spencer-Wise fondly recalled directions for navigating a uniquely designed school that seniors used to give incoming freshmen each fall.
Go to the end of the hall. Take the elevator (joke's on you).
"Then you realize you've walked around in circles," said a laughing Spencer-Wise, who now teaches physics and astronomy at the school.
Decades later, Brighton's notorious circle-shaped halls remain a punch line for upperclassmen even though the 52-year-old structure has been replaced by a stunning, state-of-the-art high school that opens its doors on Monday, Aug. 16.
"It might be a little bit hard to get around the first couple of days, but I'm really excited," Brighton junior Josie Rolfe said. "We all keep saying we're going to be like freshmen walking around here."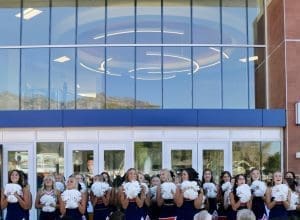 Like many others, classmate and fellow cheerleader Jillian Green said Brighton's circle hallways will be cherished in memories but not missed. She's among the Bengals who appreciates how circles were included in the school's design by MHTN Architects, from the circular design in the flooring to the light fixtures in the ceiling of the three-story building.
"It's going to be weird having a normal-shaped school," Green said, smiling. "I love how they incorporated that (the circles) in the new school. It's part of the Brighton culture. It's so cool."
Senior Elle Johnsen has looked forward to studying and socializing in the new-and-improved Brighton since she was a freshman, when the construction process began with proceeds from a $283 million tax-neutral bond that voters approved in 2017 for projects in all corners of Canyons School District.
"I'm so excited for the new school," she said. "It'll be so fun."
Though most of the school will be ready for students and staff by the time doors open Monday morning, construction on the commons area is still 4-6 weeks from being finished. The front parking lot will be completed by December.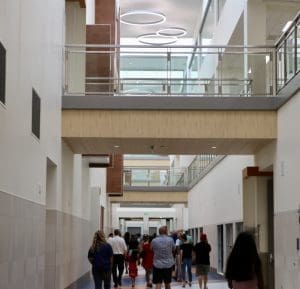 Although charming, the school's circular shape blocked natural sunlight and the scenic views of the Wasatch Mountains to the east and Salt Lake Valley to the west. Sunshine flows throughout the rectangular hallways and classrooms of the open and airy building.
"It's an incredibly good use of the footprint," Spencer-Wise said. "Having taught in classrooms where you didn't know whether it was day or night, I'm super excited."
In addition, administrators will have a clear line of sight down halls for improved safety, and students and teachers can take advantage of open space for studying and collaborating.
Other features include:
High ceilings for better acoustics in music rooms
More versatility for classroom configurations — from rehearsal rooms to robotics, wood and auto shop and food preparation zones
An 1,100-seat auditorium that feels more intimate with a warm, wood interior along with modern technology, better acoustics, energy-efficient LED lighting and state-of-the-art sound
First-class athletic facilities, including the dazzling Field House and renovated stadium
An innovative design that will allow for ample parking, sports and learning while taking advantage of every inch of the 36-acre campus (compared to a preferred 55-acre site)
"I just love how nice it is. It's new and it's huge," Green said. "It's amazing and it's so pretty. I love how it really incorporated the school colors, the orange, blue and white."
The ribbon-cutting ceremony featured spirited performances by the cheerleaders, marching band and color guard. Leaders who've helped make the new school possible — from Board of Education members Nancy Tingey (president) and Amber Shill to CSD administrators Dr. Rick Robins (superintendent) and Leon Wilcox (business administrator) to BHS principal Tom Sherwood — gave speeches. Other dignitaries, including local politicians and construction/design crews, were also in attendance.
One highlight was the traditional ribbon cutting — or three, in this case: one for CSD Board of Education members, another for local leaders and a third for Brighton students, faculty and administrators. Humorously, the special pair of massive, red-handled scissors was more than half as big as some students.
Touring the new school was the main event, of course.
"I walked through it and it's probably the coolest place I've ever been," Rolfe said. "I'm not even exaggerating because I go here. I've been in so many other schools and this one tops them all. It's so nice. I love it. The design is well thought-out, and it looks great."
The event was so much fun, Canyons District will throw two more ribbon-cutting ceremonies on Thursday and Friday at Alta and Hillcrest.