Debbie Beninati loves teaching music. She can't imagine doing anything else. But that's not all the Sandy Elementary Music Specialist does in the name of the arts.
When she's not teaching, Debbie is advocating for the importance of continuing to make comprehensive elementary music education available in public schools.
For her passion and tireless devotion, Debbie was named Elementary Music Teacher of the Year by the Utah Music Educators Association (UMEA). The award, which is given annually to only one elementary teacher statewide, was announced earlier this month at UMEA's Professional Development Conference in St George.
It's not her first public recognition. In 2013, the self-described music education "junkie" received the prestigious Huntsman Award for Excellence in Education Award for her work heading up a 61-student, before-school orchestra at Lone Peak Elementary. She did it for three years on her own time and dime as a volunteer, because, as she said at the time, "It's fun."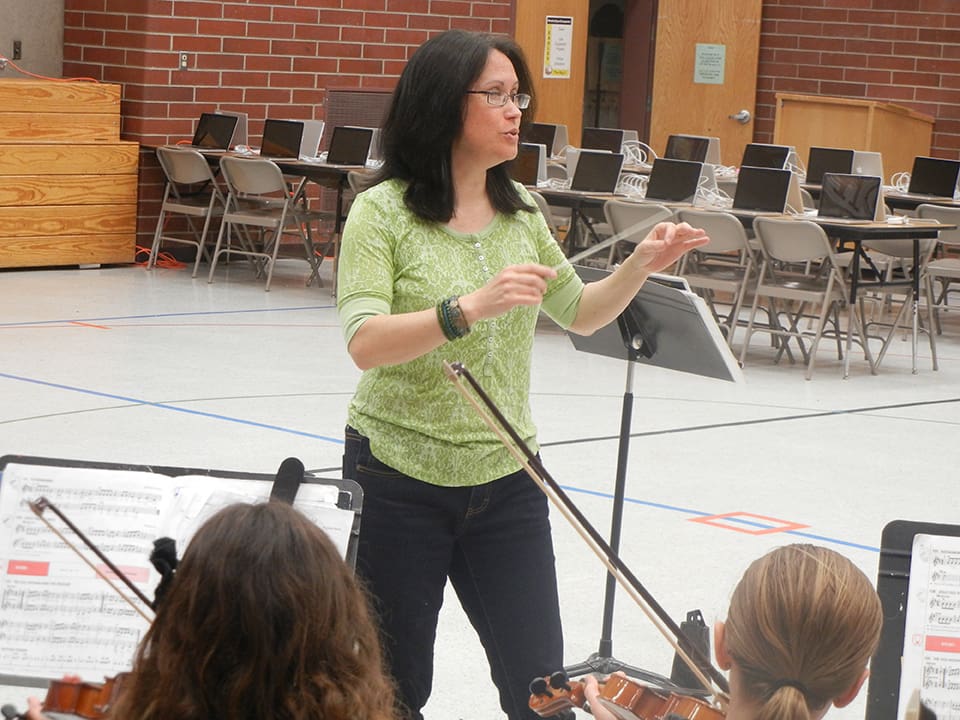 Today, she continues to model the joys of music for children, but at Sandy Elementary as a paid Music Specialist. "She really makes music come alive for students and has an energy that is unprecedented," says CSD's Arts Chair Sharee Jorgensen.
Beninati was born and raised in Colorado Springs, CO, and earned a Bachelor of Music Education from the University of Colorado in 1987. During her 22-year tenure traveling the country as a career Air Force spouse, she taught K-6th general music, private piano lessons, substituted in regular elementary education classrooms and autism unit classrooms, and taught early childhood music.
For a period she took a hiatus from teaching to start her own family, but remained active in public education by serving on PTA Boards and School Community Councils.
Upon her husband's retirement from the Air Force in 2009, the Beninati family relocated for the last time to Sandy, UT. Since arriving in Sandy, Debbie has substituted in the regular education classroom, taught elementary orchestra, K-6 general music, K-6 choir, and has written an original musical suitable for young children (grades 2-5). She earned her Level 1 Orff certification through Utah State University, and is an active member of the Utah American Orff Schulwerk Association.
"Debbie personifies effective teaching on a daily basis," says Sandy Principal McKay Robinson. "[Her] students are constantly engaged. In fact, anyone who walks into her room at any given moment will immediately be pulled into the lesson and activity. She is passionate about music and even more passionate about teaching."
McKay says, one of the greatest gifts Debbie has been able to give Sandy's students, "is the opportunity to get their hands on instruments that most have not, and may never have had the opportunity to play."