An impressive line-up of dignitaries – including city leaders and local clergy – came to Wednesday's groundbreaking for the largest renovation and expansion project in Alta View Hospital's history.
But the honor of wielding the golden-tipped shovels went to a group of built-to-order bots designed by area high school students, including members of the robotics clubs at Alta, Brighton and Jordan. And, not surprisingly, it was the robots who stole the show as they wheeled down the red carpet, took their assigned places and, on the count of three, turned the first ceremonial shovels of dirt.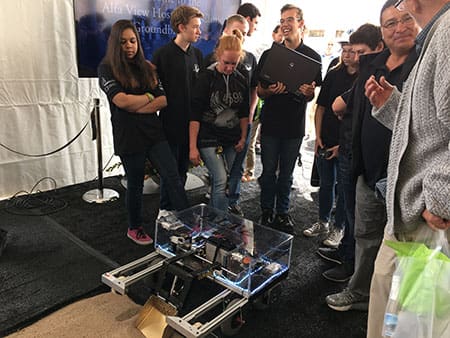 Alta View CEO Bryan Johnson issued the design challenge to symbolize Alta View's commitment to using technology to improve the patient experience and serve the Sandy community. Innovation in health care, he said, means drawing on the best minds, "skills and creativity of those around us."
Students had just two weeks to design, build and test their mechanized earth movers. Each had its own flare and features, from the sleek physique of Alta's bulldozer bot to Jordan High's menacing serrated "root ripper." Brighton's digitized digger was equipped with powerful pneumatic arms. And a digger-dump-truck combo from the neighboring private school, Juan Diego had the advantage of being able to clean up after itself. But all the students' hard work paid off as the robots performed on cue and with hardly a glitch.
After the event, students were treated to a tour of Alta View's technology department, and the hospital put $3,500 toward each school's robotics program to propel the next generation of scientists and engineers.