Canyons School District is showing students that the arts aren't just fun subjects to study – they're a vital part of a well-rounded education that enable students to develop skills that reach far beyond the classroom.
CSD has been awarded seven additional Beverly Taylor Sorenson Arts grants – bringing the District total to nine – for the 2014-2015 school year. Additionally, two CSD performing arts teachers have received prestigious 2014 Sorenson Legacy Awards for Excellence in Arts Education in recognition of the impact they have had on students' fine arts education.
The seven new Beverly Taylor Sorenson Arts grants will fund programs at Canyon View, Bella Vista, Bell View, Edgemont, Willow Canyon, Park Lane and Quail Hollow elementary schools. Additionally, Canyons has received continuing grants for Granite and Oakdale elementaries. The grants will fund a part-time arts specialist to integrate arts into the core curriculum at the schools.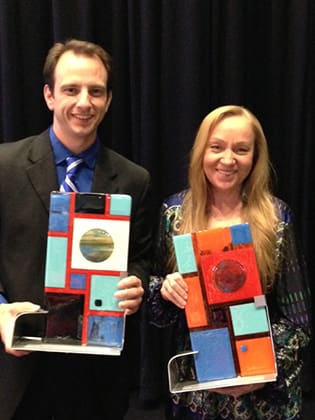 Educators Rebecca Crowley, who teaches dance and theater at Butler Middle School, and Randal Clark, who teaches band and orchestra at Corner Canyon High School, received 2014 Sorenson Legacy Awards for Excellence in Arts Education through the Utah State Office of Education, with support from the Sorenson Legacy Foundation. In addition to this prestigious recognition, Crowley and Clark both received a $2,500 cash award, plus matching dollars for their respective school programs.
Crowley and Clark both are highly respected and appreciated at their schools. Crowley – who won the Excellence in Dance 2014 Sorenson Legacy Award – has been a key educator at Butler Middle, teaching dance and directing almost 60 concerts since she joined the school in 1984. Her love of the arts extends throughout her personal and teaching life and into the community. She guides her students to create their own choreography and helps every student to feel and be successful. She uses dance as a vehicle to teach service, empathy, compassion, friendship, teamwork and other elements of character.
"Dance in the schools – and all of the fine arts classes in schools – can help (students) do better in all of the subject areas," Crowley recently told KUTV's Channel 2 News about the value of her work. "They are learning about being creative and problem-solving and collaborating with others, choreography and composition and different ways of expressing their feelings and ideas and emotions. There is a fine art to collaboration and listening … and not being afraid to get out your ideas."
Clark is one of Corner Canyon's most valued teachers. The band and orchestra leader – who won the 2014 Sorenson Legacy Award for excellence in secondary music-instrumental – has taught students in disciplines including jazz, wind symphony, band, Advanced Placement Music Theory, percussion, and orchestra since 1999. Clark is a highly respected educator who knows the saxophone inside and out and receives frequent invitations to present at clinics and adjudicate competitions across the state. He also is also a revered performer, and has shared a stage with the likes of Gordon Goodwin; Earth, Wind and Fire; Vince Norman; Allen Vizzutti and The Cannonball Band. Colleagues say Clark is positive, nurturing and motivating, and that students respond enthusiastically to his instruction.
"He pushes (students) to not just play the notes, but to create music," one colleague wrote in a letter describing Clark. "Students respond as they recognize the greatness they can achieve under his guidance."
The Sorenson Legacy Awards were created to support teachers who further students' pursuit of "a well-rounded education that addresses the whole child," according to the Utah State Office of Education's website. The award acknowledges the vital role the arts play in helping students explore realities, relationship, and ideas that cannot be expressed solely by words and numbers, the website states.
"In the global economy, creativity is essential," states the USOE description of the Sorenson award. "Study of the arts provides a venue for creativity to flourish."