Canyons Superintendent David Doty has been named the recipient of the Utah Technology Council's Educator of the Year award.
The former Spanish teacher, school law attorney and former Assistant Commissioner and Director of Policy Studies for the Utah System of Higher Education was given the "Educator of the Year" award in recognition for his leadership role for innovation education in Utah.
Canyons District is focused on ensuring all students graduate high school college- and career-ready. In spring 2011, Canyons became Utah's first school district to offer students college- and career-ready diplomas. The diplomas are supported by the UTC, the Salt Lake Chamber, and the Utah Commissioner of Higher Education and the Utah Board of Regents, and are offered to students demonstrating they completed rigorous coursework in high school. Canyons administers the ACT college-entrance test to all 11th-graders and gives the ACT EXPLORE and ACT PLAN tests to all eighth- and 10th-graders to help them prepare for the demands of college and the workforce. Canyons was named to the College Board's 2011-2012 AP Honor Roll for getting more disadvantaged students and ethnic minorities enrolled in Advanced Placement and increasing the number of students passing AP exams at the same time — a standard achieved by just 2.5 percent of school districts in the United States and Canada. Canyons' reforms and Dr. Doty's leadership has been featured in national publications, including the cover of Education Week, the Scholastic Administrator, and the American School Boards Journal.
Dr. Doty received the award from UTC founder and CEO Richard Nelson at the UTC's Annual Members' Meeting on April 18, 2012 at Little America Hotel in Salt Lake City.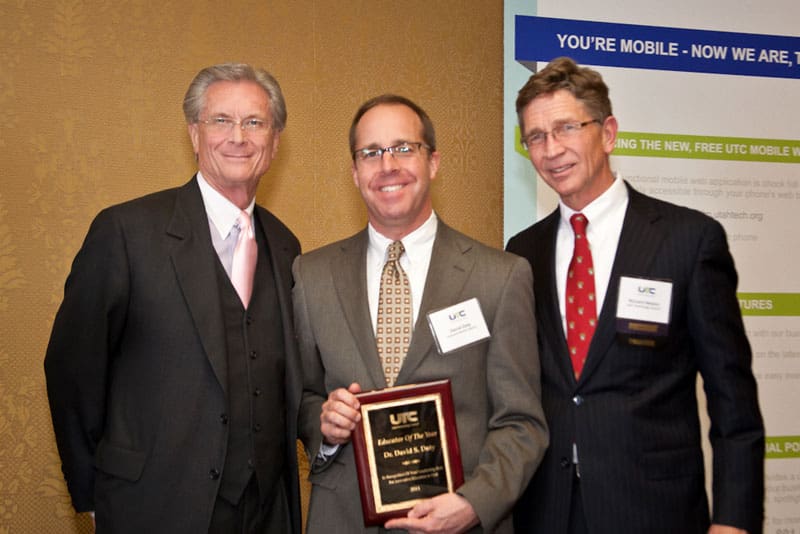 (click image to enlarge)
Also honored were:
Legislators of the Year:
House Speaker Rebecca Lockhart, R-Provo
Rep. Wayne Harper, R-West Jordan
Sen. Curtis Bramble, R-Provo
Sen. Stuart Reid, R-Ogden
Sen. Jerry Stevenson, R-Layton
Sen. John Valentine, R-Orem
CFO of the Year:
Jerry Ropelato, TechMediaNetwork
Morgan Brown, WorldHeart
CTO of the Year:
Steven ZoBell, AdvancedMD Software
Emerging Executive of the Year:
Adam Ward, eSilverBullet
Marketing Executive of the Year:
Lynda Mellor, VLCM
Sales Executive of the Year:
Shawn Robinson, JourneyTeam
HR Executive of the Year:
Cammie Cable, Clearlink
Volunteer of the Year:
Brent Lawrence
The UTC is a professional association for life science, clean-tech and high-tech companies seeking to achieve greater success, according to UTC's Web site. The UTC promotes growth of Utah's more than 5,700 technology companies and development of a high-quality workforce.