A science project designed by Hillcrest students Keltson Howell, Megan Dolle, and Nikos Liodakis is one of 16 nationwide and the only one from Utah selected by the Student Spaceflight Experiments Program to fly on the Space Shuttle Endeavor.
After several days, the Endeavour is scheduled for lift-off on May 16, 2011. The students and their adviser, Jonathan Miller, will be watching. Here are their reflections on being part of history, as this mission is Endeavour's final flight into space.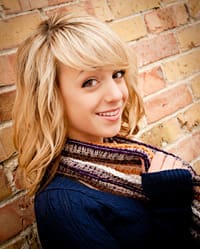 Megan Dolle
Parents: Kathleen Arghittu and Andrew Dolle
School: Hillcrest High School
Class: Junior
We're so excited to be traveling to the launch of the Space Shuttle Endeavour. It's so exciting to be a part of history! We're the only students in Utah to be picked to have a project in the shuttle's payload. Hope all is well at home.
P.S. The weather in Florida is so much better than at home!
Megan's reflections on her Endeavour experience:
Everything our team has gone through up to this point has been very inspiring. The exchange of knowledge and ideas, the hours of work and planning and the countless media interviews have all come together to one moment in time. To witness our project being taken aboard the Space Shuttle Endeavour will be a life-changing experience. It's still hard to believe that I helped create a project that will take place on Endeavour's final mission. Being a part of something like this has helped me gain so many valuable skills. I have been able to further my research in the field of biology, efficiently work in a team, communicate with the public, and much more. Above all, I learned the importance of taking a chance. I would not have been able to come this far if I did not take the initiative. If students are too scared to fail, they will never be able to witness all of the great things they could have been. I believe everyone should dream big and never miss a chance to take a risk. In conclusion, I am very excited to see where this experience will take us. I hope that this will be the beginning of many new possibilities for both my team and I.
---