Barry Johnson's second-period science class has fallen silent. The lights are dimmed and the students are all sitting forward and upright in their chairs with their feet on the floor and eyes closed.
The only sound that can be heard is the soothing voice of a woman who is inviting the class to take a few moments –eight minutes, to be exact–to "just be right here" as the students "breathe in and breathe out, breathe in, breathe out."
In today's hyper-connected, always-on world, eight minutes is a long time for anyone to sit still with their thoughts, let alone an entire classroom of energetic preteens (try it sometime). But these digital natives have been practicing, taking up to 10 minutes every other day to disconnect and clear their heads as part of a mindfulness program being implemented at Albion Middle and a handful of other Canyons District schools.
Albion has only been doing morning mindfulness practices for about a month, but early results are promising. Already, teachers are observing fewer behavioral problems and signs of anxiety and stress in their students, which they say, helps learning happen more efficiently. "Teachers also are feeling the benefits as many practice mindfulness with their students," says Albion counselor Cathy Nelson.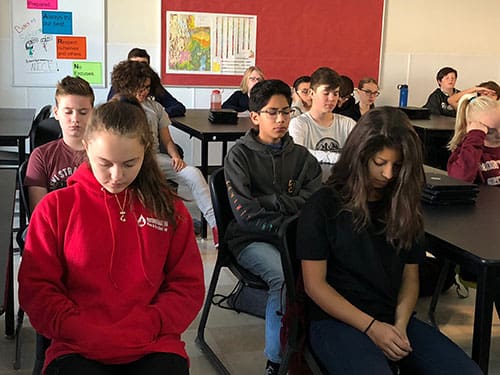 What is mindfulness? There is no single definition, which is why it has been difficult for scientists to put reported benefits to the rigorous test of randomized clinical trials. But in the trials that have been done, mindfulness-type attention training has been shown to change the brain activity of depressed patients and reduce perceived feelings of stress. And there are plenty of observational studies suggesting mindfulness also helps with impulse control, empathy, attention and focus, resilience, productivity, and stress and pain management.
With rates of teen anxiety and depression on the rise, schools are looking for ways to support the social-emotional needs of students, and mindfulness is something that's being explored by classrooms across the country, says Canyons District counseling coordinator Tori Gillett. "Students can't learn when they're overwhelmed and this gives them coping mechanisms for dealing with emotional stressors. It primes their brains for learning and trying hard things."
As it's typically practiced, mindfulness is about being present in each moment, and creating a relaxed and aware state of mind while noticing thoughts and feelings without judgement.
Canyons District's schools use a grant-funded program called Inner Explorer, a series of pre-recorded, age-appropriate guided meditation practices that teachers play in their classrooms following the school's morning announcements. Some students more actively participate than others, but all are asked to be quiet and respectful.
Each day's recording starts with taking stock of your breathing and noticing how your body feels. Often, there are even a few academic lessons thrown into the mix.
"Consider the importance of breathing," the disembodied voice encourages Johnson's class. "As you breathe in and out, consider how we can live more than 50 days without food, and about seven days without water. But we can only live about five minutes without breathing in and breathing out."
The recording goes on to discuss belly breathing and the vagus nerve, which runs from our brain stem to our stomach and controls the heart, lungs, and digestive tract. "As you breathe in through your nose, breathe slowly to the count of five, and as you breathe out, breathe slowly to the count of 10 through a small opening in your mouth. Your exhale will be longer than your inhale, and this is what stimulates the vagus nerve and the relaxation response," the voice prompts.
One or two of the students fidget and seem bored. But most sit quietly the entire eight minutes and report feeling "calm" and "relaxed" afterward. They describe the experience as rewarding and say they like starting the day this way.
Johnson has even used some of the strategies he's learned at home with his own children. "It has really helped reduce anxiety and build focus," he says, "and like anything else we do in school, the students get better at it with practice."
Tips for Surviving the Holiday Blues
Tidings of comfort and joy? Not for all of us. The holiday blues are a real phenomenon, though they don't manifest as you might think. It's a common myth, for example, that suicide rates spike during the holidays when, in fact, the winter
months usually have the fewest daily suicides, according to the U.S. Centers for Disease Control. Nevertheless, changes in the weather, family schedules, obligations and expectations can make November, December and January a tough time for some of us, inspiring stress and feelings of loneliness, instead of warmth and cheer. The good news is that the holiday blues don't generally last long, and there's help for those whose sadness lingers. Just as Canyons District is concerned with the physical safety and health of students, our schools also work to fortify the social-emotional needs of children. Psychologists, social workers and counselors are assigned to every school to support students and families throughout the school year. Canyons District's Department of Responsive Services also maintains an online library of tips and tools for parents and educators about a range of topics from suicide and drug and alcohol prevention to tips on talking to kids about traumatic events (see links below). Finally, if you know of someone who is in crisis and needs immediate help, you can report it through the anonymous and confidential mobile tipline SafeUT. The app, which provides all-day and all-night access to school administrators and licensed clinicians at the University of Utah's Neuropsychiatric Institute, is available to all Canyons school communities. Users can submit a tip with a picture and/or video and communicate online or call by phone. For the community's ease, here are links to places students and parents can download the app: Click here for Google Play and click here to find the app in iTunes.
Bullying Prevention Tips
Suicide Prevention
Drug and Alcohol Prevention Resources
Preventing Gang Involvement
Crisis Prevention and Intervention