For Principal Brian McGill, the long-awaited renovation of Alta High is personal.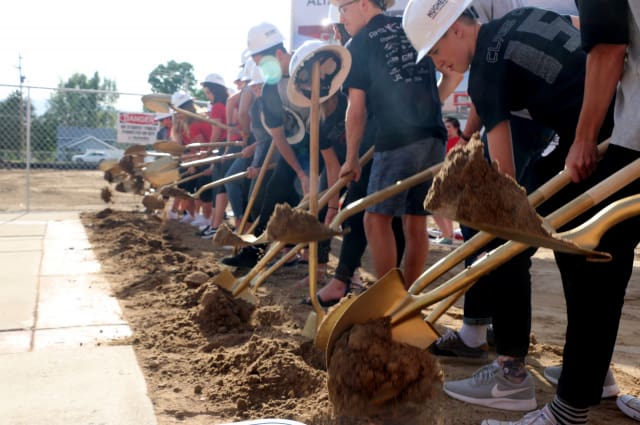 Twenty-seven years ago, he walked the same halls that his students walk today – and he's thrilled to see how the new additions will add to the culture and climate of the school. "Even as a student, one of the things I loved the most about this school is the sense of tradition and a drive for excellence," McGill said at a June 7 groundbreaking ceremony to mark the start of construction. "It's a place that doesn't settle for second best, whether it's in the arts, academics or on the athletic field. This is A-Town! It's how it's always been – and how it will always be."
To officially kick off construction, McGill, in front of a cheering crowd gathered for the groundbreaking celebration, hopped in a massive earth-mover and pulled some levers to make a giant steel claw scoop up and dump a bucket of sand.
Joining McGill in celebrating the improvement project were members of the Hawks' student council, drum line, color guard, and cheerleading squad. Also in attendance were parents, alumni, teachers, members of the Canyons Board of Education, Superintendent Dr. Jim Briscoe, other District administrators, Sandy Mayor Kurt Bradburn, Rep. LaVar Christensen, R-Draper, Senate President Wayne Niederhauser, R-Sandy, Rep. Robert Spendlove, R-Sandy, and Canyons Education Foundation Board Members Suzanne Harrison and Greg Summerhays.
Alta is among the first of several improvement projects to be completed with funds from a 2017 voter-approved bond. Work also starts this summer on rebuilds of Hillcrest and Brighton high schools. A groundbreaking for the Hillcrest project was held on May 31, and a celebration for the beginning of the Brighton project will take place at the school on Thursday, Aug. 9 at 5:30 p.m.
"With all of our schools, special care is taken to involve students, parents, teachers and the broader community in the planning process," remarked Board President Sherril H. Taylor. "We take pride in building schools that reflect the communities they serve and that serve those communities well."
The Alta High remodel will be completed in phases over two years so as to allow students to stay inside the building. "This is going to be a complex project to do," said Canyons District's Business Administrator Leon Wilcox, expressing appreciation for careful attention that VCBO Architects and Hughes Construction have given the project. "We're basically building a school on top of a school, while holding school. That's quite a challenge and these guys are going to do it while making sure everything is safe for all involved."
Among major additions to take shape during the first phase of construction are a new field house and 1,400-seat Performing Arts Center, which will be configured to capitalize on mountain views. A new commons area will be a space where students can gather to make new traditions. The ceiling of the commons area will be lifted to 35 feet, and the new open space will be illuminated by natural light. Traffic flow will be improved, making it easier for students, employees, and visitors to safely enter and exit the campus.
"From day one, the focus of the design has been about creating the best learning environment for our students and a great work environment for teachers," McGill said. "I hope you're as thrilled as I am with the plans for the school, which will stand as a testament to our community's investment in education for at least the next 40 years."
See more on Facebook or the Alta High groundbreaking photo album.
[flickrset=72157667866502737″ >Click here to view photos