For those who wonder exactly how much water they use on any given day – there's an app for that.
It was created by a group of mostly middle-school-aged students who are driven by a love of problem-solving and a keen sense of what it means to change the world. In just three years, the group, which calls itself the "Bionic Porcupines III" in First Lego League circles, has won two major awards and created two revolutionary systems to solve major problems. On Feb. 10 the third iteration of the Bionic Porcupines won the 2018 Northern Utah State First Lego League Championship at Weber State for their teamwork and innovative ideas. The Porcupines' next stop is the First Lego League World Championship in Houston, Texas, in April.
"They are a really talented group," says their coach Mark Snaufer, who is a parent to team member Eric Snaufer. "All of them, whatever they want to be when they grow up, they are going to be it. They have huge potential."
The core of the Bionic Porcupines team formed almost three years ago, when Eric Snaufer, and Carter Lechtenberg were fifth-graders at Sunrise Elementary. No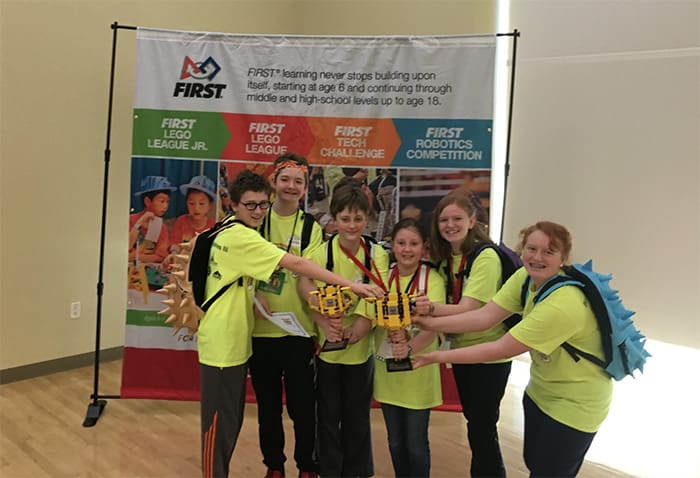 w they are in the seventh grade with Eric Snaufer attending Midvale Middle and Lechtenberg enrolled at Butler Middle. Their original teammate Katie Drennan is now in the tenth grade at Alta High, while three other teammates, Allie Drennan, Kassie Holt and Timothy Holt attend the Beehive Science and Technology Academy, a charter school.
The first year the Bionic Porcupines joined First Lego League, they devised a plan to recycle glass at Sunrise Elementary. The second year, the team upped the ante, looking to Utah's international airport in Salt Lake City for a problem to solve. They created a bionic "scarecrow" out of a battery-powered, portable device with a flapping air tube to scare away birds from the airport's runways.
The invention earned the group the prestigious President's Environmental Youth Award from the Environmental Protection Agency (EPA). According to Mark Snaufer, the airport still uses three of the devices to divert migratory birds away from harmful paths.
This year, the group tackled water conservation. "The project is wild to work through," Mark Snaufer says.
The group began doing preliminary research last summer, visiting the EPA in Denver, Colo. to research issues, then touring Deer Creek reservoir, and talking to Sandy City officials and other water professionals. Each student came up with 10 ideas on how they could solve problems with water consumption, until finally the group decided the best approach was to create an app they call "Water Bank."
The app uses smart meters installed by Sandy City to monitor how much water a home is using. Data is uploaded to a third-party site once an hour, and the app allows users to examine their own data, but with a fun twist. First, if users decrease their water usage, they can donate the savings on their water bill to a list of charities designated by Sandy City. Second, the app allows homeowners to create simulations to see how a smart sprinkler or other water-wise techniques will affect their water consumption. The app allows users to make a commitment to reduce water usage, and it tracks their progress.
"I'm just amazed at the creativity of the group," Mark Snaufer says. "It's exciting to see them have that free-thinking capability and experience."
The coach, who is a rocket motor engineer for Orbital ATK, estimates his students have invested at least 1,500 hours on their project since August, and they have more to do to prepare for the world championship – including raising the funds to get there. The team established a Go Fund Me page to help with the money, but they'll be meeting three times a week for hours at a time to finish everything else.
As challenging as the Bionic Porcupines' project sounds, Snaufer says the one area the students have learned the most is how to speak in front of a crowd.
"This will sound funny, but I think it benefitted them the most for public speaking and for organizing tasks," he says. "Some of them were a little bit hesitant to speak in public when we started out, but they have all gained a great deal of confidence in speaking in front of people. … That was a huge thing for the team to understand different people communicate differently."