In its first order of business for the new year, the Canyons Board of Education welcomed two history-making members to its ranks.
Andrew Edtl, the new representative for District No. 4, is the first African American to win election to the Board, and Karen Pedersen, elected to represent District No. 5, is the first retired Canyons District teacher to join Canyons' seven-member governing body. Both took their Oaths of Office on Tuesday, Jan. 3, 2023, joined by Amber Shill and Amanda Oaks who won re-election and were sworn in for another four years.  
The oaths, administered by 3rd District Court Judge Matthew Bates, were witnessed by friends and family members who came to applaud the officials for their achievement and willingness to serve the Canyons community. 
"Tonight, we welcome to the Canyons Board of Education four people who have shown through word and deed they truly want to change the world by being a part of an organization that is legally responsible for providing access to education to every child who lives in our community," Board President Nancy Tingey said at the swearing-in ceremony, which was held in the Board Chambers at the District Office in Sandy. "I'm excited to begin our work this year."
After taking their oaths, the newly elected members were invited to address the audience for a few minutes and outline some goals for their terms in office. All share an obvious passion for public education. 
"Public education is the place where we create the foundation for everything our students can and will be," said Pedersen who looks forward to bringing a "boots-on-the-ground" teacher's perspective to policy and budget deliberations. 
An educator for 41 years, Pedersen retired from Canyons District after a successful run that culminated with her being named Willow Canyon Elementary's 2021 Teacher of the Year. She is representing neighborhoods in Sandy and White City. 
"I feel the heavy responsibility placed on me to continue the exceptional leadership that previous and current Board members have provided," Pedersen said. 
Edtl also spoke about preserving Canyons' legacy of being the district of choice. "I am thrilled to serve and make a positive impact on the lives of students," he said.
Edtl replaces Clareen Arnold, who did not run for re-election. The area he represents encompasses parts of Sandy and Midvale. But the Air Force veteran and Administrative Officer for the Utah Air National Guard says he looks forward to serving all Canyons families.
"I'm so excited to meet more of our teachers, administrators, support staff, our students and our parents," said Edtl, a father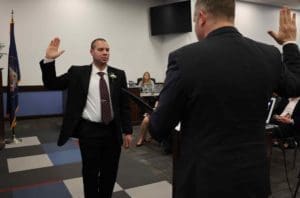 of four who has been involved with the PTA and School Community Councils since his first child started school. "Each member of our community is so essential to public education, and I am just thrilled to be part of this wonderful institution." 
This the third term on the Board for Shill, who has served in a leadership role on the Board and Utah Schools Boards Association. She represents District No. 2, which spans most of Cottonwood Heights. 
Shill congratulated her fellow Board members and said she looks forward to continuing to work diligently to build and maintain schools that serve students' highest aspirations. 
Next to participating in high school graduations, she said what she enjoys most about serving on the Board is visiting schools. "I love to go there and see the students achieving and I also love to talk to community members there. I really do listen to their concerns and try to represent what they tell me," she said. "It really is the students and families that makes serving on the Board such a meaningful experience."
A product of public education, attorney and classically trained musician, Oaks won re-election to serve a second term representing District No. 6, which includes east Draper and southeast Sandy.  
Oaks has only fond memories of her public school years, which she credits to teachers and parents working together effectively and watching out for every student. "I want that for my children, and for the children in my community," she said. "I think over and over again about how important it is that every community has a strong public education system in order to buoy up everyone."
Oaks thanked her husband and children for the sacrifices that have made it possible for her to serve, and says she looks forward to implementing the District's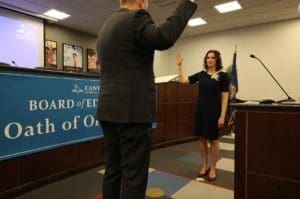 Strategic Plan in recognition of the need to move past the industrialized model of education to more personalized instruction benefitting all students.
In closing, Superintendent Dr. Rick Robins addressed the youngest members of the audience in remarking on the significance taking the Oath of Office.  "As I listen to everything that is said tonight, especially for our young people who are here, when you hear things like transparency, and like service and community engagement, these are all symbols of America's democracy. If you take anything away from tonight, remember this is what democracy is all about," he said. 
Turning to Board members, Robins added: "I am humbled to serve as Superintendent with these amazing people and to carry out the vision you have for our children."
See the District's Facebook page for a photo gallery of the ceremony and reception.