Deploying the tactics of history's great orators, from Pericles and Cicero to Winston Churchill and Frederick Douglass, four Canyons School District students claimed victory at the 2017 Utah State Middle School and Elementary School Debate Tournaments.
More than 250 middle school and 180 elementary students participated in the to
urnaments, which were held at Alta High. Canyons District students won three of the four middle school events, and earned a first-place finish in one elementary event.
In all, 36 Canyons' students earned awards. Here's a full list:
Middle School Winners
Oratory
1st Place: Juseong Kang, Albion
3rd Place: Raunya Barakat, Albion
5th Place: Hayden Sullivant, Mount Jordan
6th Place: Parker McKay, Mount Jordan
7th Place: Mollie Scott, Mount Jordan
Extemporaneous Speaking
4th Place: Elias Stennet, Mount Jordan
2nd Place: Angelica Hsueh, Draper Park
Policy Speaker
2nd Place: Caizden Agnew, Indian Hills
3rd Place: Callaway Call, Draper Park
4th Place: Britton Bettinson, Eastmont
6th Place: Ashlin Richardson, Draper Park
8th Place: Ryan Humeniuk, Eastmont
11th Place: Anders Sandberg, Draper Park
12th Place: Coleman Rohde, Union
Policy Debate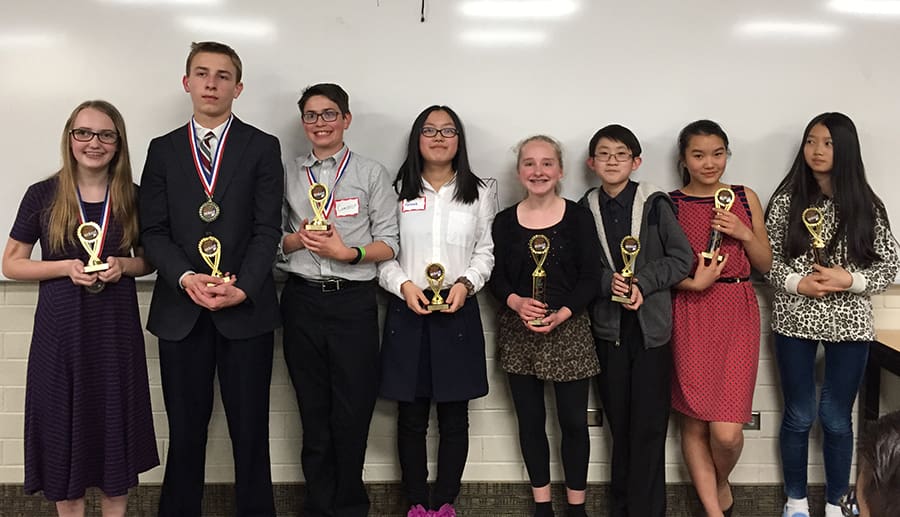 1st Place: Isabella Nibley and Anna Page, Draper Park
2nd Place: Hailey Hendrickson and Reya Wyniss, Eastmont
10th Place: Ethan Updike, Mount Jordan
11th Place: Anders Sandberg and Landon Brough, Draper Park
Lincoln-Douglas Speaker
1st Place: Emily Erickson, Indian Hills
4th Place: Cameron Johns, Albion
6th Place: Abbey Simmons, Mount Jordan
7th Place: Cameron Johns, Albion
8th Place: Abbey Simmons, Mount Jordan
10th Place: Ethan Updike, Mount Jordan
12th Place: Kenna Matthews, Mount Jordan
Elementary Winners
1st Place Informative Speaking: Eric Lu, Oakdale Elementary
3rd Place Informative Speaking: Mason Lohrke, Oakdale Elementary
2nd Place Speaker Division I Con: Myles Rackley, Brookwood Elementary
4th Place Division I Pro: Jeremy Baker and Miles Morgan, Brookwood Elementary
4th Place Division II Con: Jacob An, Peruvian Park Elementary
5th Place Division II Pro: Michael O'Neal and Anna Oldham, Sunrise Elementary