Tiffaney Castillo had only started to learn how to paint with oil when her art teacher at Jordan High encouraged her to submit an entry in the Utah Senate Visual Arts Scholarship Competition.
Castillo told her father she dreamed that her painting would take 11th place in the statewide contest. Instead – to her surprise and delight – Castillo took second place out of 27 selected winners. She will receive a $3,000 scholarship and recognition from Senate representatives. Her painting will hang in the Capitol until the end of the legislative session, Feb. 14-March 31.
Castillo is the first Canyons student to win the Senate Visual Arts competition on this level. Her painting of Mt. Timpanogos was chosen to represent Canyons District from six other entries. "I think the realism, the color, the true depiction of what she was trying to portray – I think that really captured Utah landscape," said Sharee Jorgensen, Canyons Art Specialist, who sat on the committee that selected Castillo's work for submission into the competition.
When Castillo first told her father, Fred, about the landscape arts competition, they brainstormed over where to go to gain inspi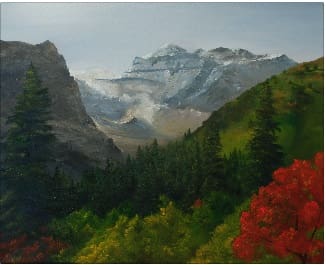 ration. Fred Castillo, a native of Peru, also has a love of art, so the father-daughter duo decided to visit the Alpine Loop of American Fork Canyon. They loaded up the car and drove to see the area for the first time. Castillo took a picture of the view, and that is the image she chose to articulate in her first-ever oil painting.
"She just likes to draw," Fred Castillo said of his daughter's accomplishment. "I'm really proud of her. She has the motivation and skill to do it, so I am really proud."
The Jordan junior also likes sculpture and drawing with pencils. She plays cello and piano and hopes to enroll in CTEC's forensics program to work toward attending college and pursuing a degree in criminal justice. Castillo will be honored at a public ceremony at the state Capitol on Feb. 14.