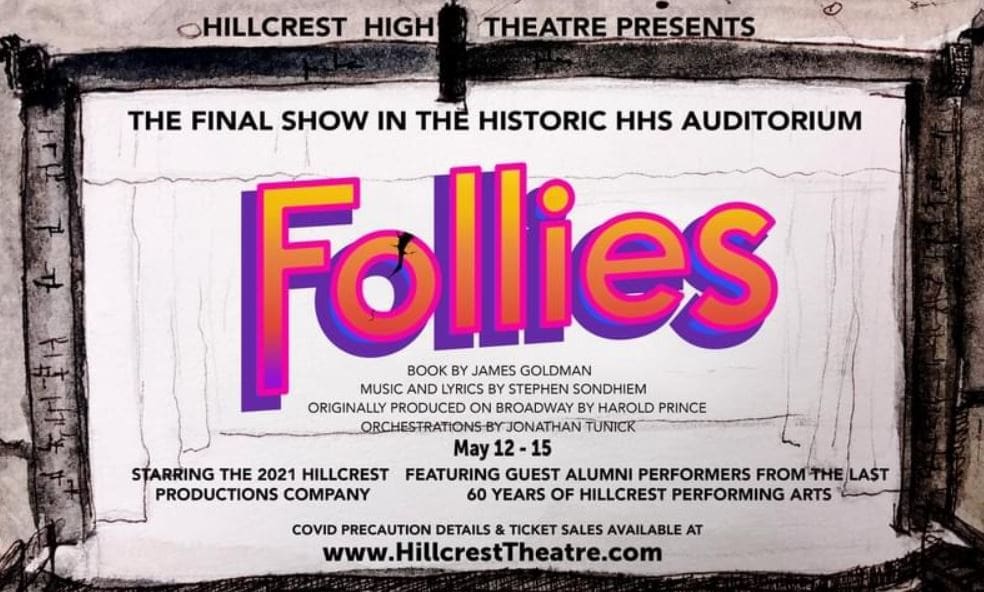 Life is imitating art at Hillcrest High.
From May 12-15, former performers will return to their old theater just before it's demolished to perform in the classic "Follies" musical, which is about — get this — former performers who return to their old theater just before it's demolished.
"This show," Hillcrest alumnus Dr. Brian Bentley said, "is a great representation of what's happening."
The uncanny similarities, the prospect of putting on a legendary Stephen Sondheim musical and blending talented alumni with current Hillcrest students made this show a no-brainer as the 59-year-old auditorium's grand finale before it's soon demolished. A dazzling new arts center will debut with the sparkling new high school on the other side of campus this fall.
"I've always loved "Follies," but I've never felt it would work with high school kids and only high school kids," said Hillcrest fine arts teacher Josh Long, who selects and directs the Huskies' musicals. "It's literally about people coming back to an auditorium that's about to be torn down. And so we thought, well, we could do it this year. We contacted the alumni and decided, 'Let's do that' and give the auditorium a proper sendoff."
The response from Hillcrest's proposal was heartwarming. More than 100 alumni asked to participate. That works well for this musical because the main characters are the older returning performers, so those parts and many more are being performed by returning Huskies. Older alumni will perform with current Hillcrest performing artists on May 13, 14 and 15, with more recent graduates taking the stage on opening night (May 12) and for a May 15 matinee.
Current students are filling roles as the ghosts of the returning performers' younger selves, among many other parts on stage and behind the scenes.
This fun show — replete with flamboyant costumes, energetic dance routines, top-notch acting and spectacular musical performances expected from the vaunted Hillcrest productions — must go on before that happens. This will be the final musical in the school's old auditorium, but there are still some concerts and events scheduled this month before it's razed.
"I'm thrilled about the new building for Hillcrest and also for the Midvale community," Dr. Bentley said. "But I'm almost 60 — more than half of my life has been spent in this building. It is a little bit emotional."
Dr. Bentley began performing in the old Hillcrest auditorium 45 years ago when he was a student. The Class of 1979 graduate — a Distinguished Alumni Award recipient with a long list of teaching and directing accolades — remained heavily involved in performing arts on that stage for decades after being hired as the choral music teacher in 1986. Dr. Bentley, who has a solo singing performance in "Follies,"  directed and helped put on a plethora of musicals and choir concerts for Hillcrest's highly touted arts program until retiring in 2016. He still returns to provide vocal coaching for the school musicals.
Though he joked it's been "a long time" since he faced the audience during a performance and hopes to remember his lines, Dr. Bentley is thrilled to have one last chance — three final showings, to be exact — to perform in the auditorium that still very much looks like it was created in the 1960s.
"I have a lot of blood, sweat and tears literally on the floors and on the boards of this building and of this room," Dr. Bentley said. "It's getting a little bit more nostalgic and emotional the closer we get to seeing it come down."
Long said he will snag a piece of the black stage as a memento. Lujan hopes to get a brick and part of the stage — and maybe one of the seats the alumni association is hoping to auction off as a fundraiser. Dr. Bentley admitted he'd also love a souvenir from his old friend, which has been a cultural gathering spot for a diverse populace, before it's torn down.
"It's a great building. It's a great community to work for," he said. "Hillcrest has always been the underdog. It's just been wonderful to be part of for 45 years, showing we had everything from Creek Road mansions to a homeless shelter in Midvale and could still succeed and still see these kids succeed. That makes it worth it."
The Hillcrest auditorium is also like an old home for Hillcrest High dance director Chelsea Lujan, whose mom held that same position for 21 years.
The themes of the "Follies" production also convinced her the show is a great way to wrap up a great era.
"We have a saying that every student that performs on this stage leaves a little bit of their soul on this stage, and every time you perform, you're performing with people who were there before you," Lujan said. "We needed a fitting sendoff to send those souls off to the universe."
Considering Hillcrest's production expertise — the school regularly earns top marks at competitions — those souls will likely only wander a few hundred yards to the east to find a new home when the curtains rise in the new auditorium.
This last show is even more special for Lujan, the dance choreographer for school musicals, because it blends the younger and older generations of Hillcrest performers. It's been a thrill for the Class of 2006 alumnus to rehearse with actors she grew up watching, performers she taught in recent years and artists from her time.
"To me, it's about the nostalgia. They're remembering the past and celebrating the future (in "Follies"), and that's how we're going to do it," she said. "This show is celebrating the fact that people have come back, that we are part of this family, part of this community, and have the opportunity to be able to perform one more time together."
Her pitch to the public?
"People need to come see the legacy of the Hillcrest performing arts," Lujan said. "We are not just one person or one teacher. We are a family that now spans generations, and we want to give that family and this stage a proper sendoff."
Long is excited about how the pieces are coming together ahead of the five-show run in mid-May.
"It's so cool to watch it all happen with these alumni — some of which I've taught. Seeing them with the current students is neat," he said. "And then there's a whole bunch I didn't even know that are a lot older than I am that represent the spirit of this space that for 60 years have been the culture center of the Midvale community.
"It's just so cool and so inspiring. And I think it's a proper goodbye to all the magic that has happened in this space in the past."