After a few months of rest and relaxation, camping trips and vacations, and swimming and camping excursions, some 34,000 Canyons District students arrived bright and early Monday, Aug. 16 before the first bells rang in a new year.
And, just like that, school is officially back in session throughout Canyons District.
Can you feel the palpable energy in the air?
Students, who arrived via buses, scooters, skateboards, bikes, their own two feet, carpools and with their parents, were greeted at their schools with party-like atmospheres. Red carpets, toe-tapping music, free pencils and candy, smiles, hugs, high-fives, elbow bumps, cheering teachers and administrators (even some wearing costumes) and special guests like Swoop from the University of Utah and Real Salt Lake's mascot, Leo the Lion, were all part of the first-day festivities.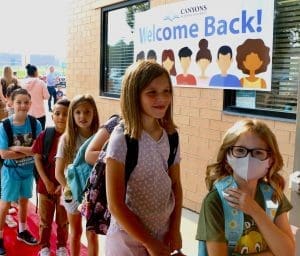 "We're famous!" several young students exuberantly exclaimed as they strolled along the red carpet while entering Crescent Elementary.
In Sandy, Midvale and Cottonwood Heights, older students at Alta, Hillcrest and Brighton — from the wide-eyed freshmen to the mature seniors — intently studied school maps and asked, "Do you know where (fill-in-the-blank room number or hall) is?" as they navigated through their new high schools for the first time. 
The trio of high schools opened this year to great fanfare after all being under construction for three years. Combined, Alta, Brighton and Hillcrest house more than 6,600 students, or about 19 percent of Canyons' student population.
The high schools were rebuilt as part of the Canyons Board of Education's ambitious school-improvement plan that has been fueled by two bonds graciously approved by voters. Since CSD's founding in 2009, 17 schools have been newly built or renovated. Six other schools have seen upgrades to their front offices, and 18 have benefited from projects to add skylights and infuse classrooms with the benefits of natural light.
"It's great to see all the kids here," Canyons Superintendent Dr. Rick Robins said in the spacious Commons Area while visiting Hillcrest High on the first day of school. "For many of them, it's their first experience in a building like this. I can't imagine just how they feel about things and how excited they are about the day."
Student body officers and administrators at the new Alta and Brighton high schools also greeted students through its doors for the first time, making students feel welcome.  The new Alta High was featured on TV and news radio segments throughout the morning, with the Hawks drum line, cheer squad and Dance Company taking center stage during live shots of the morning news shows. 
A few days after celebrating the ribbon-cutting for the new building that's replacing the old Hillcrest, which served the community for some six decades, Huskies principal Greg Leavitt certainly felt excitement — but admittedly also experienced some nerves.
Many students, some going to in-person school for the first time and others who've done this first-day thing 12 other times, can relate to the jumbled feelings.
"It's a little unnerving right now because there's so much to think about and do to make sure things are working and get kids where they are supposed to be," Leavitt said, while directing traffic near the front office. "It's all about making people happy."
And getting the students to class on time, which he and his vice principals did multiple times while ushering anxious and excited students away from their friends and to their A-Day classes.
"We're just looking at the flow that's here," Leavitt said. "Students are kind of walking around bleary-eyed, trying to figure out where to go, but it will all come together. It's a beautiful building. There's a lot of things that need to work that we'll get working. It's the long view, right?"
Robins and Canyons Board of Education member Mont Millerberg, who represents the Midvale area,  walked the halls of Hillcrest as students scurried to classes.
"You can just see all their hopes and their dreams and thoughts about looking forward," Robins said. "It's a pretty exciting day."